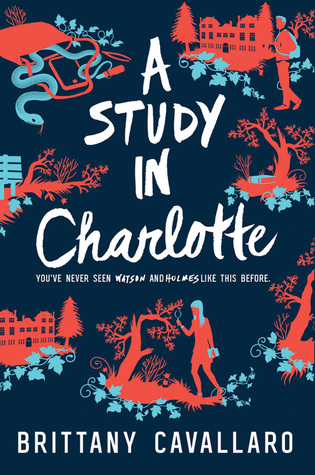 Title
:
A Study in Charlotte
Author
: Brittany Cavallaro
Publisher:
Katherine Tegen Books
Published:
March 1st 2016

Pages:
336 pages
"The last thing Jamie Watson wants is a rugby scholarship to Sherringford, a Connecticut prep school just an hour away from his estranged father. But that's not the only complication: Sherringford is also home to Charlotte Holmes, the famous detective's great-great-great-granddaughter, who has inherited not only Sherlock's genius but also his volatile temperament. From everything Jamie has heard about Charlotte, it seems safer to admire her from afar.

From the moment they meet, there's a tense energy between them, and they seem more destined to be rivals than anything else. But when a Sherringford student dies under suspicious circumstances, ripped straight from the most terrifying of the Sherlock Holmes stories, Jamie can no longer afford to keep his distance. Jamie and Charlotte are being framed for murder, and only Charlotte can clear their names. But danger is mounting and nowhere is safe—and the only people they can trust are each other."
In A Study in Charlotte Sherlock Holmes and John Watson are more than fictional characters created by Sir Arthur Conan Doyle. Holmes and Watson were real people and a century later, their descendants, Charlotte Holmes and Jamie Watson, find themselves being framed for murder and must find the true killer before he finds them...
Plot: After winning a rugby scholarship, Jamie Watson finds himself in Sherringford, a prep school in Connecticut; the same school where Charlotte Holmes studies. Jamie always imagined living great adventures with Charlotte as his great-great-great-grandfather lived with Sherlock in the past. But Charlotte's peculiar temperament (just like her great-great-great-grandfather's) keeps Jamie at bay. One night, one of their classmates is found dead - the same boy with whom Jamie brawled and who Charlotte despised. Being accused, Jamie and Charlotte must work together and discover who the real culprit is.
I found the idea of a YA modern day retelling of Sherlock Holmes very intriguing. The adventures of Sherlock Holmes and John Watson brought to the 21
st
century? I had to read it (even if I'm not a big Sherlock expert). I was even more intrigued when I learned that the Holmes in this novel was a girl.
A Study in Charlotte is told in Jamie's POV and Britanny Cavallaro made a great job at not making Jamie sound like a girl (a few authors struggle at writing a male perspective). The story is well-written and the mystery is entrancing. I couldn't wait to know who the culprit was (which I didn't have a clue of who was until the very ending). I enjoyed the story's pace - one moment it was slow and on another something major was happening. I simply couldn't put the book down.
Characters: I liked Jamie, even though I was not fond of the you-make-me-angry-so-I-hit-you-attitude and his initial "obsession" with Charlotte. He is a loyal friend to Charlotte. As a good Holmes, she keeps him in the dark and yet Jamie stays by her side. But Charlotte, I can't say I liked her. I've read a couple of Sir Arthur Conan Doyle's stories about Sherlock before and of what I can remember, I didn't dislike Sherlock or his actions (he could be an idiot, but was a likeable idiot). Charlotte acted like Sherlock in every way, but she always came across a spoiled brat - perhaps I felt it because she is a teenager. I didn't connect with Charlotte (even after learning what she went through).


Downsides: For me, two themes weren't handled properly: Charlotte's drug addiction and the theme of rape. About the first point, everyone acted as Charlotte's addiction to oxy was normal. "She's a Holmes. Of course she is doing drugs. Let her keep doing it". Only Jamie tried to do something to stop her. It was a very unreal situation. I will not address the second point too much because I don't want to spoil the plot, but rape was dealt in very lightly way. Why mention something so serious and write it as it's nothing? If it was not for the way these subjects were approached and Charlotte's lack of charm, this novel would have been without doubt one of my favorites.


A Study in Charlotte is an entrancing mystery that brings the adventures of Sherlock Holmes to the 21

st

century.