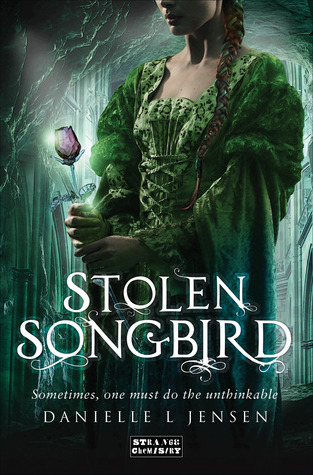 Title
:
Stolen Songbird
[The Malediction Trilogy]
Author
: Danielle L. Jensen
Publisher:
Strange Chemistry
Published:
April 1st 2014
Pages:
469 pages
"
For five centuries, a witch's curse has bound the trolls to their city beneath the mountain. When Cécile de Troyes is kidnapped and taken beneath the mountain, she realises that the trolls are relying on her to break the curse.

Cécile has only one thing on her mind: escape. But the trolls are clever, fast, and inhumanly strong. She will have to bide her time…

But the more time she spends with the trolls, the more she understands their plight. There is a rebellion brewing. And she just might be the one the trolls were looking for... "
Forget everything you know about trolls. In
Stolen Songbird
(one of the most perfect titles ever)
, Cécile de Troyes is kidnapped and dragged to the city under the broken mountain, Trollus. She is forced to marry the Prince of Trollus, Tristan, in order to break a curse. But when everything goes horribly wrong, Cécile finds herself looking for a way back home; however, how can she do it when trolls are everything but what she was expecting them to be?
Writing:
Stolen Songbird
was an amazing surprise. The prose is simply magical. Danielle L. Jensen's writing is detailed, making the settings feel real. Her words created an enticing world and I could feel myself walking in the darkness of Trollus.
"To be bound is a burden, but it is the actions we freely take that cause us the most pain."
The story is told in the POV of Cécile and Tristan (mostly in Cécile's). I enjoyed how their voices were different and how it gave an opportunity to know the real Tristan. In the beginning the story's pace was slow, which I usually dislike, but it just felt right. I needed to know Trollus and inhabitants and stories and magic before the action could speed up.
Characters:
May I start by saying I loved how Cécile wasn't a damsel in distress? Minutes before her forced wedding, as soon as she had an opportunity, Cécile tried to escape from the trolls and return to her family. I instantly liked her! Cécile is strong and smart - it doesn't stop her from making mistakes, but she learns with them. She knows she is weaker then the trolls, but she doesn't stay quiet waiting for a shinning knight; she keeps plotting her escape. Tristan is introduced as an arrogant and spoiled prince, but slowly his true nature is revealed. Tristan is brave and has a big heart. He is ready to sacrifice himself to protect Trollus; to protect his people. He wants to put an end to his father's reign of fear and he doesn't care what it may be taken from him.
Romance:
First and foremost, NO love-triangle. Now, I felt worried that there was going to be insta-love when I realised what bonding meant, but no such thing. NO insta-love too! Cécile's and Tristan's relationship goes from enemies to allies to friends and, finally, to lovers. The evolution is simply perfect, not rushed... I just love when romance is written correctly.
Worldbuilding:
Jensen wove this beautifully dark world perfectly. The worldbuiling of
Stolen Songbird
is very original, as the trolls are not what the reader expect them to be. The author twisted the lore and crafted a new world. These trolls aren't brainless creatures; they are smart and always have something under their sleeve. These trolls aren't ugly (at least, not all of them); they have beautiful faces and captivating silver eyes.
"I think it is our nature to believe evil always has an ugly face," he said, ignoring my question. "Beauty is supposed to be good and kind, and to discover it otherwise is like a betrayal of trust. A violation of the nature of things."
Would I like living in Trollus? If there were no human haters trolls, yes, I would love to live in this world under a broken mountain. I'd probably miss the sun, but phantom lights and glass gardens? Beautiful waterfalls with hidden secrets? The beautiful darkness and the magic of Trollus would definitely make up for the sun.
Stolen Songbird is the alluring beginning of The Malediction Trilogy.