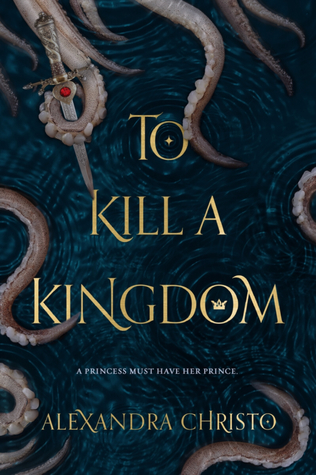 Title: To Kill a Kingdom
Author: Alexandra Christo
Publisher: Hot Key Books

Published: March 6th 2018
Pages: 368 pages


"
Princess Lira is siren royalty and the most lethal of them all. With the hearts of seventeen princes in her collection, she is revered across the sea. Until a twist of fate forces her to kill one of her own. To punish her daughter, the Sea Queen transforms Lira into the one thing they loathe most—a human. Robbed of her song, Lira has until the winter solstice to deliver Prince Elian's heart to the Sea Queen or remain a human forever.

The ocean is the only place Prince Elian calls home, even though he is heir to the most powerful kingdom in the world. Hunting sirens is more than an unsavory hobby—it's his calling. When he rescues a drowning woman in the ocean, she's more than what she appears. She promises to help him find the key to destroying all of sirenkind for good—But can he trust her? And just how many deals will Elian have to barter to eliminate mankind's greatest enemy?"
A vicious siren with a magical voice who collects the hearts of princes and a pirate prince in an adventurous quest to take down the Sea Queen? I don't think I've enough words to explain how brilliant is
To Kill a Kingdom
.
I had really high expectations and you know what? It lived up to them!
Writing:
Alexandra Christo's storytelling is magnificently enticing. I was just so captivated by the fast-paced plot and characters that I couldn't put the book down. The writing is beautiful and fluid, there is attention to every little detail and the characters are very well-developed. I just can't believe this is her debut novel!
To Kill a Kingdom
is brutal and lyrical, and I found myself highlighting so many quotes. Yep, I'm officially in love with Christo's writing skills.
"I've a heart for every year I've been alive. There are seventeen hidden in the sand of my bedroom. Every so often, I claw through the shingle just to check they're still there. Buried deep and bloody. I count each of them, so I can be sure none were stolen in the night. It's not such an odd fear to have. Hearts are power, and if there's one thing my kind craves more than the oncean, it's power."
Characters:
Lira, the Prince's Bane, she collects the hearts of princes. Yes, she rips the beating hearts from their chests and then buries them on sand. She's the perfect anti-heroine. Vicious and cunning, struggling with the humanity she has found in a human body. And, yes, Lira is changed into a human after she disobeys the Sea Queen, who happens to be her mother. Nevertheless, Elian is her match. A pirate prince that doesn't want to be king and a siren killer who wants to keep the seas and his kingdom safe even if it means giving up his freedom and live the rest of his days miserable. All for the greater good. What is not to love about Elian?
These two were a match made in heaven... or in hell, it really depends on the perspective. They are always with something up their sleeves, always outsmarting each other. The romance between these two flows naturally - a
hate-to-we-do-not-trust-each-other-to-we-are-alike-to-love
relationship (hate-to-love relationships of my favourite tropes ever) – and it doesn't overshadow the main plot.
I'd also like to mention Elian's crew. Torik, Kye and Madrid were all kinds of awesomeness. I enjoyed the friendship between Elian and Kye so much. Kye would always be there to protect his back. I was especially fond of Madrid, the only woman in the Saad. Her background story just stole my heart
pun intended
.
World building:
This is a ruthless and poetic, twisted and bloody tale of
The Little Mermaid
with unique spins and twists. With all its myths (there's even a mention to Midas) and folk tales (there are sirens, mermaids and even mermen which are even crueler than sirens), the world woven by Christo is alluring. The settings are simply gorgeous. One hundred and kingdoms to meet, each one of them with their peculiarities, and the secret sea of Diávolos where the siren kingdom of Keto ruled by the Sea Queen with an iron fist can be found.
Everything is magical!
Thank you to NetGalley and the publisher for providing me with a review copy in exchange for an honest review.