I'm back with an all new blog tour hosted by
Xpresso Book Tours
. Welcome to
A Prom to Remember Blog Tour
. Sandy Hall is my go-to author when I need something fluffy and adorable, so I couldn't be more excited when I was accepted to be part of this tour.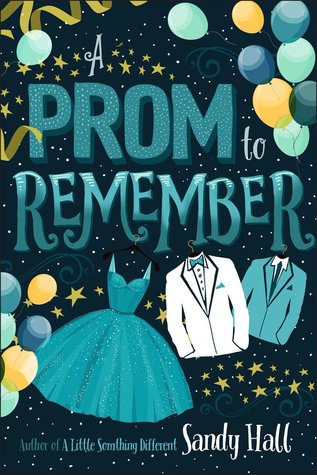 Title: A Prom to Remember
Author: Sandy Hall
Published: April 24th 2018
Genre: Contemporary & Young Adult


"
Love it or hate it, you'll never forget it. In this heart-warming novel, Swoon Reads star, Sandy Hall, explores a classic high school celebration, capturing every relatable and hilarious teen milestone along the way.
Cora: Dating Perfect Boyfriend Jamie. Has NO IDEA how to break up with him.
Paisley: Anti-prom. Somehow nominated her anxiety-ridden best friend for prom king…
Henry: Hates social situations. Invited to prom by the most popular girl in school. SEND HELP!
Otis: Half of one of the cutest couples in his class. Not quite ready for a post-prom hotel room…
Lizzie: Shy. Excited to go to prom. With a boy. Whose name she doesn't know.
Cameron: Loner. Over high school. Just wants to meet the mysterious girl who's been leaving him notes…
Jacinta: Unnamed Nerd Girl #3. Determined to become the star of her own life, starting with prom…
Chosen by readers like you for Macmillan's young adult imprint Swoon Reads,
A Prom to Remember
, from Sandy Hall (author of
A Little Something Different
), is a funny and cinematic look at the biggest dance of every high schooler's life.
REVIEW
A Prom to Remember follows seven teenagers while they get ready for the biggest night of their lifes: Prom Night!
PROS
Diversity. Sandy Hall always knows how to write a story for everyone - a story that doesn't leave anyone left out. In A Prom to Remember the author offers a cast of diverse characters (from ethnic groups to social orientations). Hall always tries not to leave anyone left out.
All the fluffiness! As I mentioned above, Hall writes the the cutest contemporaries. Her stories are always so freaking cute! 😍 If you have never read A Little Something Different, you should definitely do it. It also has multiple point of views (it even has one from a squirrel and another from a bench).
CONS
Seven points-of-view. There were too many characters (and side characters). It was difficult to keep up with all the story lines and create a connection with any of the kids going to prom. While in A Little Something Different there are also multiple POVs, they are all reflections about how these two people should be together, so I found it easier to connect with them. However, I did like Paisley (she may or may not have reminded me of me back at high school and not really wanting to be part of anything) and Henry, even though his social anxiety wasn't well portrayed.

Thank you to Xpresso Book Tours and the author for providing me with a review copy in exchange for an honest review.
Author Bio:
I'm a teen librarian from New Jersey where I was born and raised. I have a BA in Communication and a Master of Library and Information Science from Rutgers University. When I'm not writing, or teen librarian-ing, I enjoy reading, slot machines, marathoning TV shows, and long scrolls through Tumblr. A LITTLE SOMETHING DIFFERENT is my first novel.