"Waiting on Wednesday" is a weekly meme hosted by
Breaking the Spine
that spotlights upcoming releases that we're eagerly anticipating.
This week on WoW is The Shattered Court by M.J. Scott. The summary has everything I like in a fantasy genre book. Also, the cover is really pretty - yep, I'm a cover girl. A great cover doesn't mean the book will be great, but an alluring cover can be the first step to read the book. "The Shattered Court" will be released on April 28th.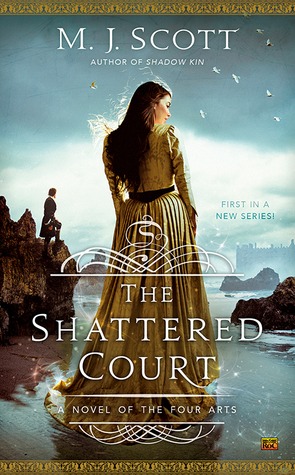 "First in a new fantasy series from the author of the Novels of the Half-Light City.

Entangled in a court ruled by tradition and intrigue, a young witch must come to terms with newfound power and desire—and a choice between loyalty and survival.…

The royal witches of Anglion have bowed to tradition for centuries. If a woman of royal blood manifests powers, she is immediately bound by rites of marriage. She will serve her lord by practicing the tamer magics of the earth—ensuring good harvests and predicting the weather. Any magic more dangerous is forbidden.

Lady Sophia Kendall, thirty-second in line to the throne, is only days away from finding out if she will be blessed—or perhaps cursed—with magic. When a vicious attack by Anglion's ancient enemies leaves the kingdom in chaos, Sophia is forced to flee the court. Her protector by happenstance is Lieutenant Cameron Mackenzie, a member of the royal guard, raised all his life to be fiercely loyal to the Crown.

Then Sophia's powers manifest stronger than she ever imagined they would, and Cameron and she are inextricably linked in the process. As a witch unbound by marriage rites, Sophia is not only a threat to the established order of her country, but is also a weapon for those who seek to destroy it. Faced with old secrets and new truths, she must decide if she will fight for her country or succumb to the delicious temptation of power.… "