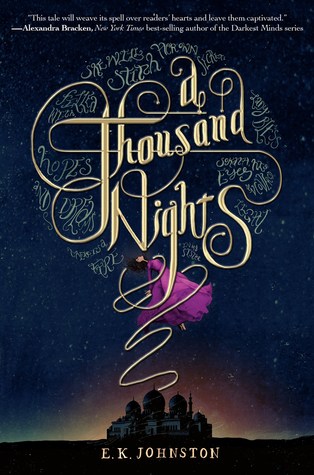 Title
:
A Thousand Nights
Author
: E.K. Johnston
Publisher:
Disney Hyperion
Published:
October 6th 2015

Pages:
328 pages
"Lo-Melkhiin killed three hundred girls before he came to her village, looking for a wife. When she sees the dust cloud on the horizon, she knows he has arrived. She knows he will want the loveliest girl: her sister. She vows she will not let her be next.

And so she is taken in her sister's place, and she believes death will soon follow. Lo-Melkhiin's court is a dangerous palace filled with pretty things: intricate statues with wretched eyes, exquisite threads to weave the most beautiful garments. She sees everything as if for the last time. But the first sun rises and sets, and she is not dead. Night after night, Lo-Melkhiin comes to her and listens to the stories she tells, and day after day she is awoken by the sunrise. Exploring the palace, she begins to unlock years of fear that have tormented and silenced a kingdom. Lo-Melkhiin was not always a cruel ruler. Something went wrong.

Far away, in their village, her sister is mourning. Through her pain, she calls upon the desert winds, conjuring a subtle unseen magic, and something besides death stirs the air.

Back at the palace, the words she speaks to Lo-Melkhiin every night are given a strange life of their own. Little things, at first: a dress from home, a vision of her sister. With each tale she spins, her power grows. Soon she dreams of bigger, more terrible magic: power enough to save a king, if she can put an end to the rule of a monster."
"Lo-Melkhiin killed three hundred girls before he came to her village, looking for a wife." The heroine of the story decides not to let him take her sister away. Beautifying herself, she makes him choose her. However, the new bride doesn't plan on dying and day after day she wakes up... And day after day she discovers a new power inside of her that may set the kingdom free.
Writing:
A Thousand Nights
is a beautifully written novel. There is something poetic and compelling in its words. A retelling of the tale of
Scheherazade
(which can be found in the book
One Thousand Nights
), but with a spin of its own that only makes the novel more magical,
A Thousand Nights
can easily make the reader fall in love and bring her/him into its stunning world
.
It
is a slow-paced story (and I'm not someone who usually enjoys slow-paced stories), but everything is so well-woven and the story flows so naturally that I didn't even notice it.
"If you listen long enough to the whispers, you will hear the truth. Until then, I will tell you this: the world is made safe by a woman. She bound the monster up and cast him out, and the man who was left was saved."
Mostly in the voice of the heroine, there are a few chapters in A Thousand Nights in the voice of the demon inside Lo-Melkhi, which was a good surprise because I enjoyed being given an inside look at the thoughts of the villain.
Characters:
The heroine is brave and fearless. Also, she has no name, something that was one of the things I enjoyed. Why? It gives a mystery vibe to the story and the author shows that a name isn't needed to connect with a character. I fell in love with the heroine because of her strong personality; because she sacrificed herself to protect her sister, who in turn made her a shrine that gave her the power to protect herself (and others) from the demon inside the Lo-Meljhiin.
The relationship between the two sisters is beautiful. They love each other and wish nothing else than keep each other safe. Even separated, their bound is never broken.The pure love between them shows how a relationship between sisters should be.
Worldbuilding:
Set in a magical desert kingdom, this world is perfectly crafted. From the life of a desert tribe to the life of a king in the palace; from the life of a trading caravan to the life of the palace weavers. Everything is perfectly woven! Full of little details, this world comes to live. There is such a realness in this desert kingdom: it's like a reader can touch, smell, feel, savour every moment.
A Thousand Nights is an enchanting novel that every retelling lover should read.