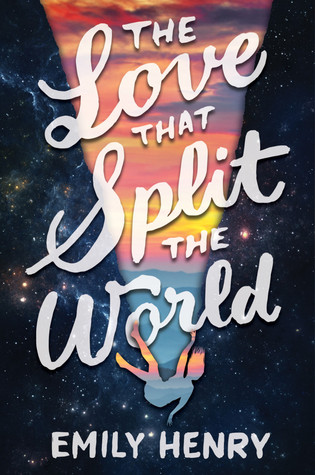 Title
:
The Love That Split the World
Author
: Emily Henry
Publisher:
Razorbill
Published:
January 26th 2016

Pages:
396 pages
"Natalie Cleary must risk her future and leap blindly into a vast unknown for the chance to build a new world with the boy she loves.
Natalie's last summer in her small Kentucky hometown is off to a magical start... until she starts seeing the "wrong things." They're just momentary glimpses at first—her front door is red instead of its usual green, there's a pre-school where the garden store should be. But then her whole town disappears for hours, fading away into rolling hills and grazing buffalo, and Nat knows something isn't right. That's when she gets a visit from the kind but mysterious apparition she calls "Grandmother," who tells her: "You have three months to save him." The next night, under the stadium lights of the high school football field, she meets a beautiful boy named Beau, and it's as if time just stops and nothing exists. Nothing, except Natalie and Beau.

Emily Henry's stunning debut novel is Friday Night Lights meets The Time Traveler's Wife, and perfectly captures those bittersweet months after high school, when we dream not only of the future, but of all the roads and paths we've left untaken."
After reading The Love That Split the World, I had to take a moment to breath and let the story sink into my heart. A part of me was touched by the beautiful writing of Emily Henry and the unusual adventure of Natalie Cleary.
"Sometimes the most beautiful moments in our lives are things that hurt badly at the time. We only see them for what they really were when we stand at the very end and look back."
Plot: Natalie Cleary's last summer in her hometown starts with the visit of the "Grandmother". Natalie doesn't know who or what this woman is. All she knows is that she has been seeing her since she was a child and that three years ago she vanished. But now she was back. The "Grandmother" tells her that she has "three months to save him". Then the everyone vanishes, leaving only one boy standing in the football field. His name is Beau. Natalie's quest to discover herself and why the town she knows keeps vanishing or changing right in front her of her eyes begins - as well as a great romance.
Writing: Emily Henry's writing is perfect. I could hardly believe that this was her author's debut. The enticing and poetic writing made me fall in love with The Love That Split the World. The novel has a few twists that captivate the reader's attention. One of them, I'm proud to say that I figured out and I was so eager to know if I was right or wrong that I simply couldn't put the book down.
"Love is giving the world away, and being loved is having the whole world to give."
I adored the inclusion of Native American folklore (Natalie is Native American) and how the short-stories told by the Grandmother were so alluring and magical. The author did an exceptional research in the psychological field -I've learned a few things about hypnopompic visions- however, I must confess, there were a few times that I found it confusing to follow. The psychological themes were very interesting and did make me question if what was happening in Natalie's life was magic or if it was her mind playing tricks.
Characters: Natalie is a strong and likable character. She has a huge heart -she still cares about her ex-boyfriend, she is unable to hate a snide friend, she has a free of hate and envy relation with her best friend and she loves her family to death (even if sometimes she feels out of place for being adopted)- and is willing to sacrifice herself for those she loves. But she does have a few flaws like everyone else. I wish there were more protagonists like Natalie. On the other hand, Beau is a lost soul. I felt bad for him because his family was awful and the parents of his best friend kept blaming him for his their son's actions. Beau has this kind of tragic aura around him. Emily Henry created a world where every character felt real and far from one-dimensional (another reason why Natalie grew so much on me; she learned with her actions and every lesson made her a better person).
Relationship: I fell in love with the love between Natalie and Beau. Their love traveled through parallel worlds. How more romantic could it be? I did ignore the insta-love (something I usually feel annoyed by). But sometimes love at-first-sight is all you need; it's what makes a novel fascinating. Also, through the story and its development, I got the feeling that Natalie and Beau were meant to be together. Of course they would fall in love as soon as their eyes met.
The Love That Split the World is a beautifully-weird blend of romance, science-fiction, time-traveling, psychology and beliefs.