Title
:
Spinning Starlight
Author
:
R.C. Lewis
Publisher:
Disney Hyperon
Published:
October 6th 2015

Pages:
336 pages
Sixteen-year-old heiress and paparazzi darling Liddi Jantzen hates the spotlight. But as the only daughter in the most powerful tech family in the galaxy, it's hard to escape it. So when a group of men shows up at her house uninvited, she assumes it's just the usual media-grubs. That is, until shots are fired. Liddi escapes, only to be pulled into an interplanetary conspiracy more complex than she ever could have imagined. Her older brothers have been caught as well, trapped in the conduits between the planets. And when their captor implants a device in Liddi's vocal cords to monitor her speech, their lives are in her hands: One word, and her brothers are dead. Desperate to save her family from a desolate future, Liddi travels to another world, where she meets the one person who might have the skills to help her bring her eight brothers home—a handsome dignitary named Tiav. But without her voice, Liddi must use every bit of her strength and wit to convince Tiav that her mission is true. With the tenuous balance of the planets deeply intertwined with her brothers' survival, just how much is Liddi willing to sacrifice to bring them back? Haunting and mesmerizing, this retelling of Hans Christian Andersen's The Wild Swans fuses all the heart of the classic tale with a stunning, imaginative world in which a star-crossed family fights for its very survival.
As a fairy-tale retelling lover, I had to read
Spinning Starlight
, a sci-fi retelling of
The Six Swans
by Hans Christian Andersen. I had only read one retelling of this tale before and it was
Daughter of the Forest
by Juliet Marilier, a novel that I loved. That said, I was expecting to love
Spinning Starlight
a lot more than I actually did.
First, I think the cover is gorgeous. Second, I loved being inside Liddi's head, seeing her struggles to save her brothers and to express herself without being able to use her voice. I was captivated by the way Liddi interacted with her surroundings and dealt with the other characters (who were not only complete strangers, but
aliens
) without her voice. And that made me love her relationship with Tiav. It all started with a fascination for being from different planets and then it evolved into something more. Between, the romance isn't overwhelming and doesn't take the focus away from Liddi's main goal: to save her brothers before it's too late.
However, the world-building was confusing. So confusing! I couldn't keep up with all the portal-talk (trying to understand it made me feel like Liddi when interacting with her eight genius brothers). I did not appreciate the plot as much as I wanted to because of my lack of understanding of all the science and technology involved (and I don't think it was because of English not being my firs language).
I was fond of how R.C. Lewis was faithful to the original tale (she kept the main elements - a huge number of brothers; the main character not being able to speak to save them...). Nevertheless, I couldn't appreciate the story to its fullest because of all the scientific and technological concepts.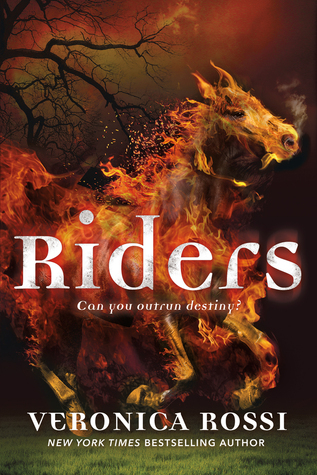 Title
:
Riders
Author
:
Veronica Rossi
Publisher:
Tor Teen
Published:
February 16th 2016

Pages:
384 pages
"Nothing but death can keep eighteen-year-old Gideon Blake from achieving his goal of becoming a U.S. Army Ranger. As it turns out, it does. While recovering from the accident that most definitely killed him, Gideon finds himself with strange new powers and a bizarre cuff he can't remove. His death has brought to life his real destiny. He has become War, one of the legendary four horsemen of the apocalypse. Over the coming weeks, he and the other horsemen—Conquest, Famine, and Death—are brought together by a beautiful but frustratingly secretive girl to help save humanity from an ancient evil on the emergence. They fail. Now—bound, bloodied, and drugged—Gideon is interrogated by the authorities about his role in a battle that has become an international incident. If he stands any chance of saving his friends and the girl he's fallen for—not to mention all of humankind—he needs to convince the skeptical government officials the world is in imminent danger. But will anyone believe him?"
When I first found out about
Riders
, I was super excited to read it. Its apocalyptic plot reminded me of
Supernatural
and
The Messengers
[TV series]
, so I just knew I had to read it. However, I think my expectations were too high and I ended up not enjoying the story as much as I was expecting to.
Riders
is told in Gideon's POV. I believe the author did a great job at not giving Gideon a feminine voice. I may not know what goes inside a male's head, but Gideon didn't sound like a girl to me. I enjoyed how the story starts "backwards" as the novel starts with Gideon being interrogated by the US Army and must tell the events of the last weeks that led to thousand of dollars in damages.
I found intriguing Gideon's search for answers and attempt to understand what was happening to him after the bizarre accident that should have killed him. However, after it, I slowly started losing interest and I blame the interactions between the characters for it. Everything was motive for Gideon and the other guys to fight between them. It was a
who-is-the-biggest-macho
contest all the time. Perhaps some people find it funny, but, as I told before, my sense of humour can be awful. Also, I felt that the chemistry between Gideon and Daryn was forced. I know there was little romance, but even with only a little of romance, I should have felt the chemistry and I didn't.
One of the best elements of
Riders
is the world building - the Four Horsemen mythology and the Kindred blended well with the contemporary society.
All in all, I'll probably read
Seeker
as it will be told in Daryn's POV. Also, because there was a kind of cliffhanger and my curiosity needs to know what happens.