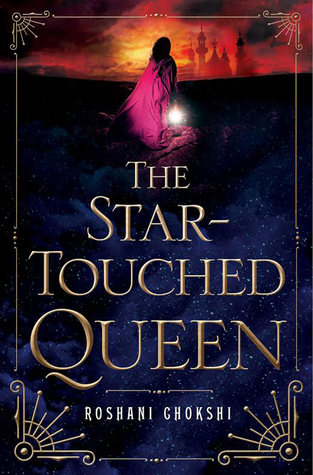 Title
:
The Star-Touched Queen
Author
:
Roshani Chokshi
Publisher:
St. Martin's Griffin
Published:
April 26th 2016
Pages:
342 pages
"Fate and fortune. Power and passion. What does it take to be the queen of a kingdom when you're only seventeen?

Maya is cursed. With a horoscope that promises a marriage of death and destruction, she has earned only the scorn and fear of her father's kingdom. Content to follow more scholarly pursuits, her whole world is torn apart when her father, the Raja, arranges a wedding of political convenience to quell outside rebellions. Soon Maya becomes the queen of Akaran and wife of Amar. Neither roles are what she expected: As Akaran's queen, she finds her voice and power. As Amar's wife, she finds something else entirely: Compassion. Protection. Desire…

But Akaran has its own secrets—thousands of locked doors, gardens of glass, and a tree that bears memories instead of fruit. Soon, Maya suspects her life is in danger. Yet who, besides her husband, can she trust? With the fate of the human and Otherworldly realms hanging in the balance, Maya must unravel an ancient mystery that spans reincarnated lives to save those she loves the most…including herself."
Maya is cursed since the day she was born. The stars foresaw a wedding of death and destruction. Ostracised, Maya grew in her father's court happy with the only future she could envision: a scholar's life. However, one day, a
marriage of convenience is arranged and Maya becomes the Queen of Akaran, an eerie kingdom with a mysterious king that wishes her to be his equal. Slowly, Maya starts unlocking the secrets of her kingdom and an ancient mystery comes to surface.
Writing:
Have you ever noticed how beautifully written are novels set in the Orient? The rich and colourful culture makes easy to fall in love with the story and the world wove by the author.
The Star-Touched Queen
is told through Maya's voice and her voice made me dream of a magical India. The writing is poetic and compelling and makes the story flows naturally.
"I wanted a love thick with time, as inscrutable as if a lathe had carved it from night and as familiar as the marrow in my bones. I wanted the impossible, which made it that much easier to push out of my mind."
The Star-Touched Queen
is based on Indian mythology. I confess I felt ashamed for knowing so little about it. However, I can say I fell in love with it and I can't wait to know more about the mythology that inspired such a stunning story.
Characters:
Princess Mayavati, Maya, is the main character. Cursed by her horoscope, she didn't have an easy life in the Raja's court (the harem's wives always scorned her). However, this curse offers Maya the opportunity to become independent and fearless. She is strong and has this desire to find where she belongs that I think everyone can connect with. These are the reasons that made me adore Maya. Also, I loved the relationship between her and her little sister - who was the reason behind of many of Maya's actions.
Amar has this mysterious aura surrounding him. His love and devotion to Maya made me swoon. A hopeless romantic like me felt my heart breaking and being glued a thousand times.
"I love you," he murmured into my hair. "You are my night and stars, the fate I would fix myself to in any life."
Worldbuiling:
The world created in
The Star-Touched Queen
is witching. The royal court, the harem, the kingdoms, the mystical creatures and the mythology blend to create an entrancing world. The little details and the descriptions make this world fell real, alive. Every moment can be sensed by the reader and that's pure magic.
Roshani Chokshi is an author to follow after her enchanting debut, The Star-Touched Queen.