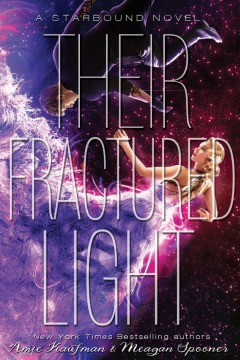 Title
:
Their Fractured Light
Author
: Amie Kaufman & Meagan Spooner
Publisher:
Disney Hyperion
Published:
December 1st 2015

Pages:
425 pages
"
A year ago, Flynn Cormac and Jubilee Chase made the now infamous Avon Broadcast, calling on the galaxy to witness for their planet, and protect them from destruction. Some say Flynn's a madman, others whisper about conspiracies. Nobody knows the truth. A year before that, Tarver Merendsen and Lilac LaRoux were rescued from a terrible shipwreck—now, they live a public life in front of the cameras, and a secret life away from the world's gaze.

Now, in the center of the universe on the planet of Corinth, all four are about to collide with two new players, who will bring the fight against LaRoux Industries to a head. Gideon Marchant is an eighteen-year-old computer hacker—a whiz kid and an urban warrior. He'll climb, abseil and worm his way past the best security measures to pull off onsite hacks that others don't dare touch. Sofia Quinn has a killer smile, and by the time you're done noticing it, she's got you offering up your wallet, your car, and anything else she desires. She holds LaRoux Industries responsible for the mysterious death of her father and is out for revenge at any cost. When a LaRoux Industries security breach interrupts Gideon and Sofia's separate attempts to infiltrate their headquarters, they're forced to work together to escape. Each of them has their own reason for wanting to take down LaRoux Industries, and neither trusts the other. But working together might be the best chance they have to expose the secrets LRI is so desperate to hide. "
Their Fractured Light
is the exciting conclusion of the
Starbound
trilogy. After the events in Avon, there are more people than ever wanting to unmask the LaRoux Industries. In Corinth, Sofia Quinn and Gideon Marchant are trying to take down LaRoux when they first met. Each has their own reasons to be in a revenge quest, but their destinies are intertwined when a security breach ruins their attempt to infiltrate in the LR Industries. Forced to work together, Gideon and Sofia get one step closer of exposing La Roux and his dark secrets.
Writing:
What more can I say about the writing? As I wrote before, Amie Kaufman and Meagan Spooner are genius! If they ever decide to co-write another series, I'm all in. As I wrote about
These Broken Stars
and
This Shattered World
, their writing is simply delicious. I loved how, once again, they linked the plot with the previous events. My jaw dropped with all the twists (Kaufman and Spooner are the queens of twists *all hail the queens*).
Their Fractured Light
was a delightful reading, even though I felt the story by the end was a bit dragged.
"

But free will is what it means to be human, and no one can determine the path you take through this universe. Choice is our greatest right, our greatest gift-and our greatest responsibility."
Characters:
I wanted to love Sofia and Gideon as much as I loved the characters from the previous novels. I really wanted to, but compared to them, Sofia and Gideon felt lackluster. And then [Spoiler Alert!] Lilac, Tarver, Jubilee and Flynn show up and Sofia and Gideon take back seat to me. Maybe if these four hadn't been a huge part of the story, I would have ended up embracing Sofia and Gideon.
I liked Sofia in
This Shattered World
, but in her own story I found myself annoyed by her. I understood why she wanted her revenge, but the-means-to-justify-the-ends attitude was not my cup of tea. Sofia used Gideon's feelings to get what she wanted and I wasn't okay with that. Gideon was funny and positive (in the middle of so much horror, it was great to have someone positive). I felt he didn't deserve to be used!
Relationship: As always, the romance was well-done. No insta-love. No love-triangle. However, there was a small thing that bothered me: Gideon and Sofia didn't trust each other and yet they spent a of time kissing. How can you be with someone without trust?
World Building:
Kaufman and Spooner introduce us to another world, Corinth. While Avon was still in process of terraforming, Corinth is already developed; while Avon was a decaying world, Corinth is an evolved world - a technological world where people are divided by sectors according to their wealth. In
Their Fractured Light
, the writers create a new world, offering a new side of the complex society of
Starbound
.
The Starbound trilogy is enticing and is with sadness that I say goodbye to this world created by Amie Kaufman and Meagan Spooner.