Title
:
The Shadow Queen
Author
:
C.J. Redwine
Publisher:
Balzer + Bray
Published:
February 16th 2016

Pages:
336 pages
"Lorelai Diederich, crown princess and fugitive at large, has one mission: kill the wicked queen who took both the Ravenspire throne and the life of her father. To do that, Lorelai needs to use the one weapon she and Queen Irina have in common—magic. She'll have to be stronger, faster, and more powerful than Irina, the most dangerous sorceress Ravenspire has ever seen. In the neighboring kingdom of Eldr, when Prince Kol's father and older brother are killed by an invading army of magic-wielding ogres, the second-born prince is suddenly given the responsibility of saving his kingdom. To do that, Kol needs magic—and the only way to get it is to make a deal with the queen of Ravenspire, promise to become her personal huntsman…and bring her Lorelai's heart. But Lorelai is nothing like Kol expected—beautiful, fierce, and unstoppable—and despite dark magic, Lorelai is drawn in by the passionate and troubled king. Fighting to stay one step ahead of the dragon huntsman—who she likes far more than she should—Lorelai does everything in her power to ruin the wicked queen. But Irina isn't going down without a fight, and her final move may cost the princess the one thing she still has left to lose."
The Shadow Queen
is a Snow White retelling and I read just right after
Stitching Snow
. The two retellings were unique and I loved both takings on the tale. That said, I didn't find myself wondering if I was reading the same story - don't you love when there are "thousands" of retellings of the same story, but completely different?
I found the plot of
The Shadow Queen
compelling. It reminded me of the original fairytale but, as I stated above, with a unique touch (Lorelei doesn't need a prince; but the same can't be said about Kol not needing a kiss to wake up from a sleeping curse -but not literally). The story was fast-paced with lots of action and so many twists that left me mouth-opened. Also, the sceneries were beautifully described. Ravenspire was such a magical kingdom.
Now, about the characters: I really liked them. Lorelai was an amazing kick-ass princess - also, she was very strong, but knew her limits (even though sometimes she was wrong about how weak she was). Kol's determination to protect his people moved skies (he was never meant to be King and yet he adapted so well to his new role). Oh, and did you know Kol was a dragon? I had never read a retelling where the Prince Charming was half-dragon
(yes, I adored the idea)
. Leo was hilarious [
SPOILER
-I understand why he had to die, but did he really have to die? His death was so heartbreaking]. Irina, the Evil Queen, was despicable and hateful (which means she was a very well-written villain). There were some chapters I felt I should feel sorrow for her, but Irina was so insidious that any reason why I should pity her didn't touch my heart. Oh, and Lorelai's falcon was as bad-ass as her - too bad she was always trying to feed everyone with mice, which was very disgusting.
On the whole,
The Shadow Queen
is a nice retelling - and if you love retellings, you should take a look at it - and C.J. Redwine created an alluring and harsh world (there were so many ruthless and painful scenes). I must say that I can't wait to read
The Wish Granter
(it is inspired by Rumplestiltskin) which may not be a sequel, but is set in the same world.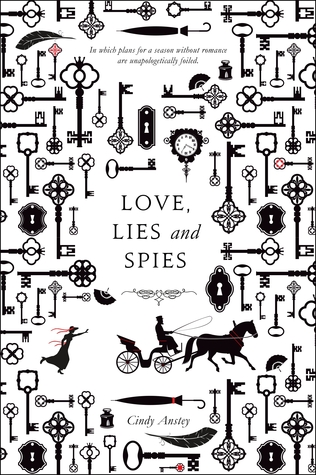 Title
:
Loves, Lies and Spies
Author
:
Cindy Anstey
Publisher:
Swoon Reads
Published:
April 19th 2016

Pages:
368 pages
"
Juliana Telford is not your average nineteenth-century young lady. She's much more interested in researching ladybugs than marriage, fashionable dresses, or dances. So when her father sends her to London for a season, she's determined not to form any attachments. Instead, she plans to secretly publish their research. Spencer Northam is not the average young gentleman of leisure he appears. He is actually a spy for the War Office, and is more focused on acing his first mission than meeting eligible ladies. Fortunately, Juliana feels the same, and they agree to pretend to fall for each other. Spencer can finally focus, until he is tasked with observing Juliana's traveling companions . . . and Juliana herself.

"
First and foremost, do not be scared by the writing! There is a Portuguese saying that goes like this: "Primeiro estranha-se, depois entranha-se" (first you strange it, then it dives into you; it's a bad translation, but it's the best I could make). That was how I felt when I started reading Love, Lies and Spies. At first, the writing was odd and I found myself re-reading the same expression thrice, but then the more I read, the more I became familiar with the language (I can now proudly say that I know what 'friday-face' means). The language used shows that Cindy Anstey did an extensive research, creating a Victorian society that felt very real.

Now that that is off my chest, I say how much delicious romantic this novel was. *.* Love, Lies and Spies was a very enjoyable reading. I enjoyed the plot (even though it took some time to be revealed what kind of spy-job Spencer had in hands) and it even had a surprising twist. I loved some characters, hated others (can I slap aunt Phyllis and Vivian?) and some I simply found them idiots (yes, I'm looking at you Maxwell Pyebald). The romance was written perfectly. There was attraction, but not insta-love. And, most important, no love triangle.

Spencer is a swoon-worthy gentleman (see what I just did here?). Juliana is adorably clumsy - but it doesn't mean that can't take care of herself. A most unfortunate event (or maybe not) brings these two together and soon a friendship turns into love. However, of course, love is never easy and these two have no intentions of being touched by the Cupid as Juliana is captivated by her lady beetle research and Spencer is trying to discover a traitor. But these distractions only make their building romance even more lovely. I was rooting for them since the first time Juliana laid her eyes on Spencer's blue eyes.

All in all, the debut novel of Cindy Anstey has all the ingredients of a fluffy and eye-catching historical romance set in the Regency period. If you haven't read Love, Lies and Spies yet, I recommend you to do it. Just go to your nearest bookshop and buy it.