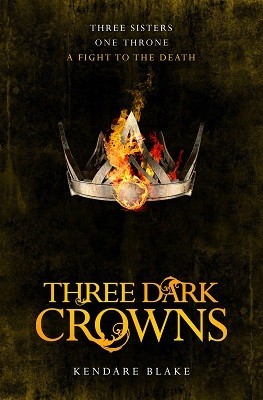 Title
:
Three Dark Crowns
Author
:
Kendare Blake
Publisher:
Pan Macmillan
Published:
September 20th 2016

Pages:
407 pages
"
Every generation on the island of Fennbirn, a set of triplets is born: three queens, all equal heirs to the crown and each possessor of a coveted magic. Mirabella is a fierce elemental, able to spark hungry flames or vicious storms at the snap of her fingers. Katharine is a poisoner, one who can ingest the deadliest poisons without so much as a stomachache. Arsinoe, a naturalist, is said to have the ability to bloom the reddest rose and control the fiercest of lions.

But becoming the Queen Crowned isn't solely a matter of royal birth. Each sister has to fight for it. And it's not just a game of win or lose…it's life or death. The night the sisters turn sixteen, the battle begins. The last queen standing gets the crown.

If only it was that simple. Katharine is unable to tolerate the weakest poison, and Arsinoe, no matter how hard she tries, can't make even a weed grow. The two queens have been shamefully faking their powers, taking care to keep each other, the island, and their powerful sister Mirabella none the wiser. But with alliances being formed, betrayals taking shape, and ruthless revenge haunting the queens' every move, one thing is certain: the last queen standing might not be the strongest…but she may be the darkest."
"Three Black Witches
All fair to be seen,
Two to devour
And one to be Queen."
Writing:
I'm was no stranger to Kendare Blake's writing when I first picked this book.
Anna Dressed in Blood
is one of my favourite horror novels and it made me fall in love with her writing style. Thus, I found myself quickly captivated by
Three Dark Crows
. The plot was very intriguing and I found myself flipping page after page. I especially enjoyed how Blake wrote the three sisters so differently; how Katharine, Arsinoe and Mirabella had different personalities. I never felt I was reading the same character.
"In her mind, every last Queen lies at the bottom of the sea, drowned by the Goddess the moment she was done with them."
However, it wasn't all sunshine and rainbows. A few times the plot rhythm would change and certain situations would happen out of the blue, and I was left wondering what had just happened. Thankfully, this didn't happen often or probably I would not be impatiently waiting for the sequel,
One Dark Throne
.
Characters:
There were a lot of characters in this story. Each chapter in the novel switches between the triplets and there was a bunch of different characters surrounding them. I don't feel I disliked any of the main characters, but there was always a issue or another that would raise my eyebrows.
Maybe my opinion is biased because I received the elemental cover, but Mirabella was my favourite queen. She became my favourite because while Katharine and Arsinoe were so obsessed with becoming powerful, Mirabella missed her sisters and worried about them. She didn't want to murder her kin. Nonetheless,
SPOILER
, I'm not sure how to feel about her "pseudo-relationship" with Joseph (principally because I suspect their bound was forged through magic).
"You will need it to be true, for it is too cruel otherwise, to force a Queen to kill what she loves. Her own sisters. And for her to see that which she loves come at her door like wolves, seeking her head."
On the other queens. I was really warming up to Arsinoe, but then she started being corrupted by blood magic. I don't dislike her, but her pursue to gain power made me so disappointed. Katharine's story didn't catch my attention as much and as result all I feel for her is indifference - even if her struggle with the blisters and all the consequences of the poisoning made me feel sorry for her.
On a last note, was I the only who found the love-interests lackluster? Perhaps, I just wasn't expecting so much romance...
Worldbuilding:
I was expecting the worldbuilding to be a lot more darker. All the blood I was expecting to be shed... I blame it on
Anna Dressed in Blood
and on this novel's premise. However, this little detail didn't stop me from enjoy this magical and dark island. A well-developed world is always a plus and Fernbirn was splendidly crafted. The Elementals, the Poisoners, the Naturalists (loved the idea of an animal-familiar), the mythology behind the queens... I simply loved meeting a world so complex and with so much of offer.