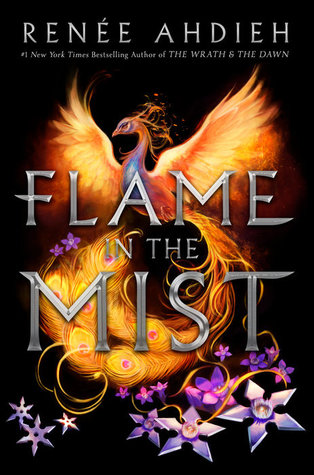 Title
:
Flame in the Mist
Author
: Renée Ahdieh
Publisher:
Hodder & Stoughton
Published:
May 16th 2017
Pages:
393 pages
"
The only daughter of a prominent samurai, Mariko has always known she'd been raised for one purpose and one purpose only: to marry. Never mind her cunning, which rivals that of her twin brother, Kenshin, or her skills as an accomplished alchemist. Since Mariko was not born a boy, her fate was sealed the moment she drew her first breath.

So, at just seventeen years old, Mariko is sent to the imperial palace to meet her betrothed, a man she did not choose, for the very first time. But the journey is cut short when Mariko's convoy is viciously attacked by the Black Clan, a dangerous group of bandits who've been hired to kill Mariko before she reaches the palace.

The lone survivor, Mariko narrowly escapes to the woods, where she plots her revenge. Dressed as a peasant boy, she sets out to infiltrate the Black Clan and hunt down those responsible for the target on her back. Once she's within their ranks, though, Mariko finds for the first time she's appreciated for her intellect and abilities. She even finds herself falling in love—a love that will force her to question everything she's ever known about her family, her purpose, and her deepest desires.
"
Although I never read The Wrath and the Dawn duology, I've wanted to plunge into Renée Ahdieh's writing for a long time. Thankfully, Flame in the Mist, a perfect blend of magic and darkness, lived up to my expectations and I can't wait for its sequel, Smoke in the Sun.

Writing:
Every page of
Flame in the Mist
is filled with mystery and is action-packed. The settings are captivating -from the Junkai Forest to a magical feudal Japan. However, I must confess, it took me a bit to get into the story because of the writing style. Don't get me wrong, the story is beautifully written, but I found myself struggling to follow the prose.
One of the things I loved about this novel is that it conveys a very powerful message: women can be strong in different ways. Thank you Renée Ahdieh for showing that women can be portrayed in a million different manners and still be strong; they do not need to fit a certain female role to be compelling.
"I've never been angry to have been born a woman. There have been times I've been angry at how the world treats us, but I see being a woman as a challenge I must fight. Like being born under a stormy sky. Some people are lucky enough to be born on a bright summer's day. Maybe we were born under clouds. No wind. No rain. Just a mountain of clouds we must climb each morning so that we may see the sun."
Just a quick warning: if you are expecting a Mulan retelling
(I've to say it was the main reason why I picked up this book from my TBR pile)
,
you may be a bit disappointed. I don't think this novel should have been sold as such. It does indeed have a few elements of the original tale, but, for example,
Flame in the Mist
is not set in China and Mariko disguises herself as a boy for different reasons than Mulan.
Characters:
If dressing up as a boy and track the Black Can down to find why someone was sent to murder you, doesn't make you brave, I don't know what does
-okay, maybe Marik's rushed decision could make her be seen as stupid too
. Something I loved about Mariko is that she uses her mind to fight her battles and she does not back-down. She speaks her mind and no matter how much the Wolf bit, she would always bite back.
Talking about the enigmatic and secretive Wolf... I first feared an "abusive" relationship -the kind of relationship that no matter much a guy mistreats a girl, she is still attracted to him- but I can gladly say my suspicions were wrong. I enjoyed the development of the love-to-have relationship between Mariko and Okami -particularly because Mariko was dressed up as a boy and I could not wait to see how Okami would react when discovering her secret.
Worldbuiling: The world woven by Ahdieh is bewitching. The Junkai Forest with its Jubakka trees and forest spirits; feudal Japan full of secrets and betrayals. There is bloodshed and darkness, but there is a charm in this world that can't be denied. The little details and beautiful descriptions (even though confusing a few times if you do not speak English) made Mariko's world feel alive.