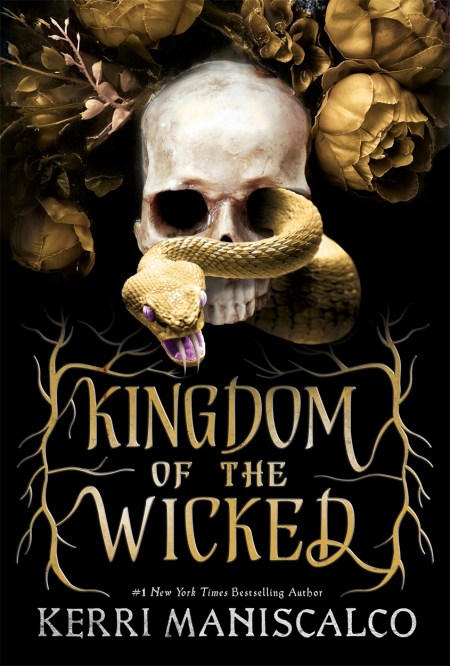 Title:
Kingdom of the Wicked [
book depository
|
amazon
]
Publisher: Hodder & Stoughton
Published: 27th October 2020
Pages: 448 [Hardcover]


Two sisters.

One brutal murder.

A quest for vengeance that will unleash Hell itself…

And an intoxicating romance.

Emilia and her twin sister Vittoria are streghe – witches who live secretly among humans, avoiding notice and persecution. One night, Vittoria misses dinner service at the family's renowned Sicilian restaurant. Emilia soon finds the body of her beloved twin…desecrated beyond belief. Devastated, Emilia sets out to find her sister's killer and to seek vengeance at any cost-even if it means using dark magic that's been long forbidden.

Then Emilia meets Wrath, one of the Wicked-princes of Hell she has been warned against in tales since she was a child. Wrath claims to be on Emilia's side, tasked by his master with solving the series of women's murders on the island. But when it comes to the Wicked, nothing is as it seems…
Kingdom of the Wicked
! 🥳 Shall we give this book all the love it deserves? After what happened in the last few weeks,
Kingdom of the Wicked
(and all the books from that imprint, which I refuse to name) deserve all the cuddles. 💛 Thus, if you love witchcraft, gloomy settings, and devilish princes,
Kingdom of the Wicked
is the perfect Halloween read for you.
A deadly killer. We all know that Kerri Maniscalco can write an enticing mystery packed up with unexpected twists. Now, throw demons and magic into the mix, and you have the perfect murder tale. In Kingdom of the Wicked, witches are being murdered, their hearts ripped out of their chests. After losing her sister, Emilia decides to unveil the mystery behind such a ghoulish death. Was it a human or a demon? In her pursuit of truth, Emilia discovers more than she bargained for -- not only did Vittoria keep secrets from her, but also shadows do have sharp teeth.
Ruthless demons & Wicked Prince.
Demons and the seven Wicked Princes
(each prince represents one of the seven deadly sins)
are just stories Nona tells. Right? That is what Emilia always believed in, but she couldn't be more mistaken. If magic is possible, then cruel and deadly beings can walk among the living. Of course, not all of them are as evil as stories portray them -- some are even crueller and deadlier. Emilia must learn to fend for herself, or she might end up dead. Or in love.
Mouthwatering food. One of my literary weaknesses is books that heavily feature food dishes. Emily's family is the proud owner of a Sicilian restaurant. The description of the dishes, their confection, and the smells floating in the kitchen, would make anyone's belly rumble. Between demonic beings, murders, and haunting landscapes, this little family restaurant becomes a beacon of warmth.

A haunting atmosphere. Nothing is more important in a mystery novel with Gothic vibes than its atmosphere. Stormy nights, abbeys, witch hunters, underground mazes, and so on, made sure that nineteenth-century Italy has never been creepier.

Dark and forbidden witchcraft. Blood spells are mostly forbidden, but when these are the only way to discover the truth behind her sister's brutal murder, Emilia does not think twice before wielding them to summon a hellish (and broody) Wicked Prince.

Thank you to the publisher for providing me with a review copy in exchange for an honest review.
Are you excited about Kingdom of the Wicked