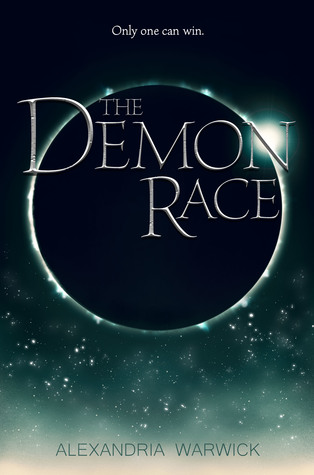 Title: The Demon Race

Author
: Alexandria Warwick
Publisher: Wolf Publishing

Published: September 18th 2018
Pages: 372 pages


Hidalgo meets An Ember in the Ashes in this Middle Eastern-inspired YA fantasy debut.

A race across the desert.

An unimaginable prize.

It occurs once every thousand years: the Demon Race. A test of will and strength, it is a race across the Saraj, a fight for the prize of a lifetime. And it is the key to Namali Hafshar's freedom.

When shy, seventeen-year-old Namali learns of her arranged marriage, she flees home and enters the Demon Race for the chance to change her fate. But to compete, she must cross the Saraj on a daeva, a shadow demon that desires its own reward: to infect her soul with darkness.

Namali soon learns the desert holds more dangers than meets the eye. The only person she can trust is Sameen, a kind competitor seeking his own destiny. As her affection for him grows, however, so too does the darkness in her heart.

In this race of men and demons, only one can win. But the price of winning might be more than Namali is willing to pay.
If you liked the film Hidalgo (one of my favourites) and
The Scorpio Races by Maggie Stiefvater
then you should read this
The Demon Race
.
The writing.
The Demon Race
is brutal and lyrical novel.Alexandria Warwick's prose is beautiful. Every sentence is captivating. Every quote enthralling. The story-line was so perfectly carved that made the world magical, even if it was dark and violent. The descriptions were so vivid that it was almost as if you were part of the Saraj.
However, the story became a bit repetitive - the story-line became a circle. Also, there were a few times that the scene would would jump from thoughts to action, and vice-versa, out of the blue and I was left wondering what had just happened.
Ps. My first language is no English.
World building.
Middle-Eastern inspired world, this is a world of darkness and light. It is a harsh and cruel world where death hovers, but at the same time entrancing with striking descriptions of a desert filled with magic and mysteries and where a bloody race take place every one thousand years. Then there was so much mythology
(something that I love)
, Gods and daevas, and it made everything so much more fascinating.The world woven by Warwick is pure perfection.
Girl Power!
I quite enjoyed how Warwick reflected on how women are treated: how little freedom they have and how the patriarchal system locks the doors just to take away the little one they have.
The Demon Race
conveys a powerful image with Namali fighting to break from the chains the society has used to keep her under its wrap.
Thank you to Alexandria Warwick for providing me with a review copy in exchange for an honest review.