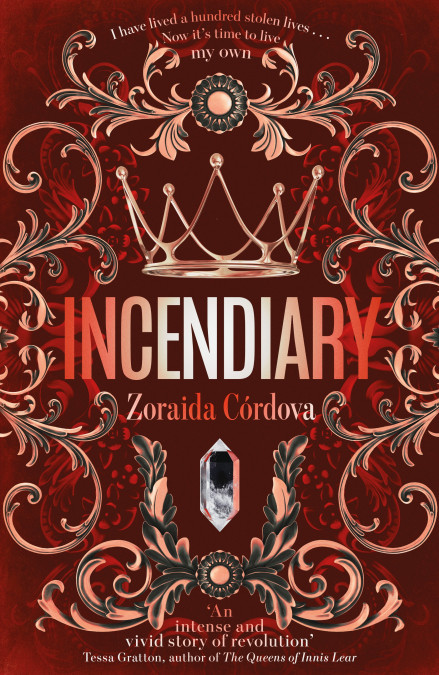 Title:
Incendiary
Publisher: Hodder & Stoughton
Published: 28th April 2020
Pages: 464 [Kindle edition]


An epic tale of revenge and redemption in a world where a memory thief must fight against terrifying monarchs bent on the destruction of her people.

When the royal family of Puerto Leones sets out to destroy magic through a grand and terrible inquisition, spy and memory-thief Renata seeks to kill the prince, leader of the King's Justice, who plans to use a terrible new weapon to wipe out the magic of the Moria...

For fans who enjoyed the ferocity of Ember in the Ashes, INCENDIARY explores the double-edged sword of memory and the triumph of hope and love in the midst of fear and oppression.
Have you ever come across a book that you loved so much and yet found no words to share your thoughts about it? Yes? I'm happy to learn I'm not alone. 😄 I finished
Incendiary
a long time ago and it still is so hard to explain how much I adored this re-imagining of the Spanish Inquisition and its main character, the fearless Renata Convida.
Storytelling:
After finishing the first chapter, I knew without a doubt that
Incendiary
had stolen my heart. Ren's journey is a powerful one and it will not leave anyone indifferent -- going back to the place that took everything from her to save those who yield magic from a hideous destiny was terrifying for her, but Ren's determination did not waver.
Yes, I will gush a lot about Ren in a few moments.
The main outline of the story may not be unique, but the execution and the structure of the plot are brilliantly done. Even if one can sense a secret here and there, many twists still catch the reader off the guard. One of the things I enjoyed the most about
Incendiary
is how the pace of the story changed as Ren regained her missing memories
(as a memory thief, Ren holds the memories of others, but her memories of a time before being rescued by the Moria are hidden deep inside her)
. The more Ren discovers about herself, the more the pace of the narrative quickens. The story is revealed to the reader at the same time Ren unveils the secrets of her time at the palace -- the reader never knows more than Ren does.
Characters:
There is so much I want to say about Ren, but so little that I can say about what I loved about her without spoiling
Incendiary
. As I wrote, the story's pace changes at the same time that Ren finds missing pieces of her past. Throughout the story, she learns a lot about herself and starts questioning everything and everyone around her (amazing character growth!).
Due to being a Robari and having been taken to the palace of Andalucia when she was just a child and raised by the Justice, Ren has always felt a fish out of water among the Whispers. The rebels, who want to overthrow the vicious royal family of Puerto Leones, do not trust Ren. However, her magic is rare and a necessary weapon for the cause. Even after doing whatever she can to belong in their midst, Ren still feels the rebels don't trust her nor her magic -- her magic is dangerous since it has the power to turn people into hollows
(when Ren takes all the memories of a person, they become an empty shell)
; during her time at the palace Ren was unaware of what she was doing to the Moria the Justice brought to her. She was just a child! How can the Whispers hold it against her?!
I felt really bad for Ren because she did have a lonely life among her kind -- feeling that no one wants her around, she ends up building barriers between herself and the Whispers. I was glad Ren had Dez, who protected her and did whatever he could to convince her that she was not alone and mattered
(yes, I shipped them hard from the very first moment and then my heart was crushed)
. Losing Dez, was heartbreaking for Ren -- especially because she did have responsibility for what happened to him. It pushed Ren right back into the hands of the royal family and the Justice -- once again, she was at the mercy of those who used her magic to destroy her kind. She put herself in danger for the Whispers
(who I do not think that deserved her full dedication)
.
Back at the palace, Ren slowly regained some of her childhood memories and that changed everything she thought she knew. And, all I can say more without revealing major secrets is that even with her world turned upside down Ren does not give up. For me that just shows how brave she is. No matter how scary the past can be, it is a part of Ren. Without it, she cannot build her identity -- she is not complete without these forgotten fragments. In the end, Ren goes through an extraordinary journey
(after the way Incendiary ended, I can't wait for the sequel and Ren's new journey)
, grappling to understand who she is and her place in the world as a Robari -- a Robari that everyone fears and wants to control.
World Building:
As aforementioned,
Incendiary
is quite influenced by the Spanish Inquisition, a Christian tribunal responsible for one of the darkest moments in History, which was marked by religious intolerance and repression. In the world woven by Cordova, everyone who has magic finds themselves persecuted by the King's Justice. It is a cruel world for the Moria, who end up rebelling against the oppression of Puerto Leones and doing whatever they can to save their land from bigotry.
Incendiary
shows what intolerance can do to society -- if one does not stand up, darkness will take over. Regarding the magic system, I found it quite intriguing
(there are four magic abilities and I adored how all of them are related to the human mind and senses)
and it wasn't confusing as many other magical worlds out there.
Thank you to NetGalley and the publisher/author for providing me with a review copy in exchange for an honest review.
Are you excited about reading Incendiary? Do you enjoy books influenced by a historical moment?